This past week was spent traveling again as we have been done with teaching at San Ambrosio since Thanksgiving. I really did enjoy my time at the school in spite of all the frustrations that seemed to come along with it. It was a good experience to have and I would recommend it for anyone to try at least once. I now truly understand the importance for classroom management and how it needs to be implemented in that very first week of school. If not the rest of the year is a struggle to get through and a lot of time will be wasted with discipline issues like some that I had to deal with in my classroom(s) in Costa Rica.
Even though I can't say this experience was not always great for me or that its been my favorite trip overseas, I definitely took a lot away from it and I think I will be a better teacher now because of it. My patience has been tried and stretched from the students at San Ambrosio as well as from working with the other teachers. I know I have said it repeatedly, but I think the biggest thing I got from it was an appreciation for classrooms in the States and how much more organized it is. I also feel like we have more freedom here to do what we want with the curriculum. We do have set standards to meet, but we are free to teach in whatever style best suits us and our classroom. It isn't limited to lecture and teaching from a text book word for word and answering questions afterward.
One of the main reasons I decided to take this opportunity was to get some experience in an international school because I wanted to travel overseas at some point to teach. I still think I would like to do this at some point in my life, however I don't know that I would want to teach English in a Hispanic country unless it was on the high school level. I know not every school overseas is going to be like San Ambrosio, so things may be done differently elsewhere, but for now I will remain in the States and get a job wherever I can in the schools!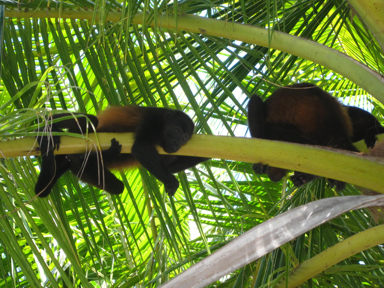 These are some monkeys that were climbing around in the palm trees at Playa Samara!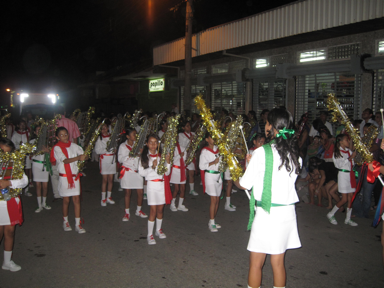 This is during the 'Festival of Lights' parade in downtown Nicoya. There were many school bands like this one that walked in the parade and played music.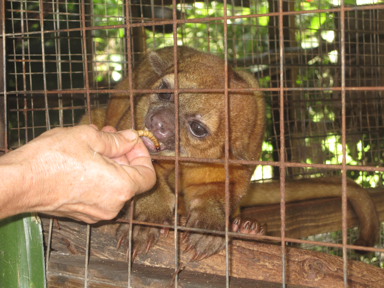 This is Marty, a rescued kinkajou who lives at the zoo at Playa Carillo, which is just a short drive from Playa Samara. He is very friendly and good with humans, but because of this he will never be able to be released back into the wild.